Delicious Plant-Based Protein Snacks
Delicious Plant-Based Protein Snacks
We all know that protein is key in helping our bodies to repair and build muscle, so consuming protein following a workout is important! There seems to be a misconception that it is hard to consume enough protein through a plant-based diet to support healthy muscle growth, though we are here to prove that isn't the case. These three plant-based protein snacks are easy and quick to make and taste amazing!
Plant-based protein snack #1
Dreamy Chocolate Protein Milkshake - Between 22 and 25g of Protein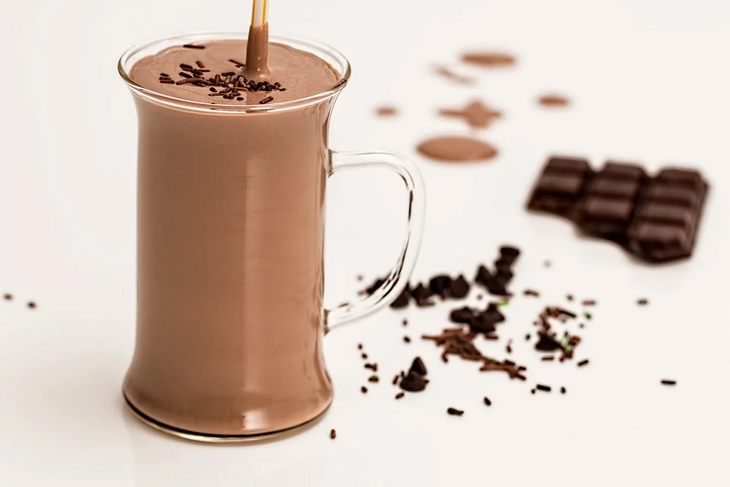 If you like to have a protein shake after your workout, then this recipe is for you. This delicious, creamy, chocolatey protein milkshake will blow you away! It is super nutritious and can be made in a couple of minutes by throwing everything together in a blender. The avocado will make the shake nice and creamy, the protein powder gives a great boost of protein, the cocoa powder intensifies the chocolate flavour and the plant-based milk brings everything together. Perfect to drink on the go.
Ingredients
½ an avocado
1 scoop vegan chocolate protein powder
½ teaspoon cocoa powder - check it contains no milk!
150ml plant-based milk - my favourite is oat
Method
Add all the ingredients into a blender, making sure you add the protein powder and cocoa powder last so that it doesn't get stuck at the bottom.
Blitz for 30 seconds to a minute until everything is nicely blended and looking delicious.
Best served straight after making, or you can keep it in the fridge for a few hours to enjoy later!
Plant-based protein snack #2
Crunchy Avocado and Pumpkin Seed Toast - Around 21g of Protein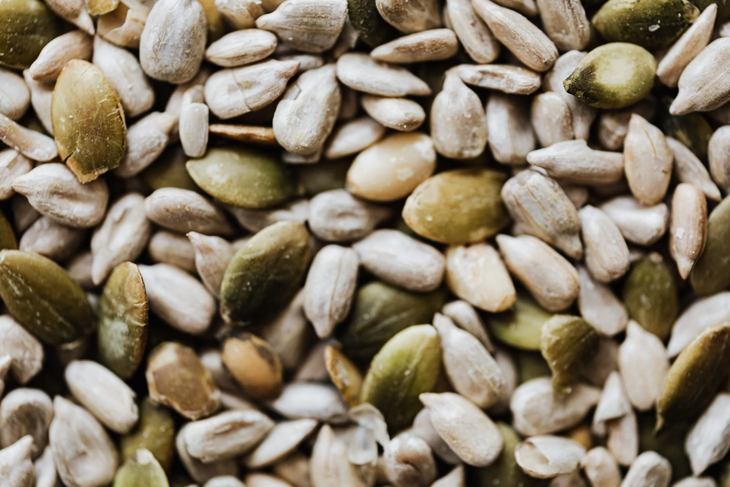 For the avocado lovers out there (we know there's lots of you), you will love this crunchy twist on the classic. The wholemeal sourdough will provide much needed carbohydrates, the avocado will give healthy fats and amazing flavour, and the pumpkin seeds will add crunch, protein and lots of nutrients! This is another really quick recipe that you can make without any fuss after the gym. Switch up the toppings to suit your tastes and enjoy!
Ingredients
1 large or two small slices of wholemeal sourdough (or any slice of your favourite bread)
½ an avocado
¼ teaspoon chilli flakes
1 tablespoon lemon juice
100g pumpkin seeds
Olive oil
Salt and pepper
Method
Preheat your oven to 200 degrees Celsius. Place your pumpkin seeds in a baking tray with a drizzle of olive oil and salt and pepper to taste. Roast for 15 minutes and take out the oven.
Meanwhile, scoop out the flesh of the avocado (minus the stone) and place it into a bowl. Add your chilli flakes and lemon juice, and give it a good mash.
Take your slice or two of bread and pop it into the toaster or under the grill until golden brown.
Top your toast with the avocado mixture and the gorgeous roasted pumpkin seeds. If you don't want to use all the pumpkin seeds, keep them in an airtight container and they make a great snack.
Top with a few chilli flakes and you're good to go!
Plant-based protein snack #3
Crispy Harissa Roasted Chickpeas - 19g of Protein Per 100g of Chickpeas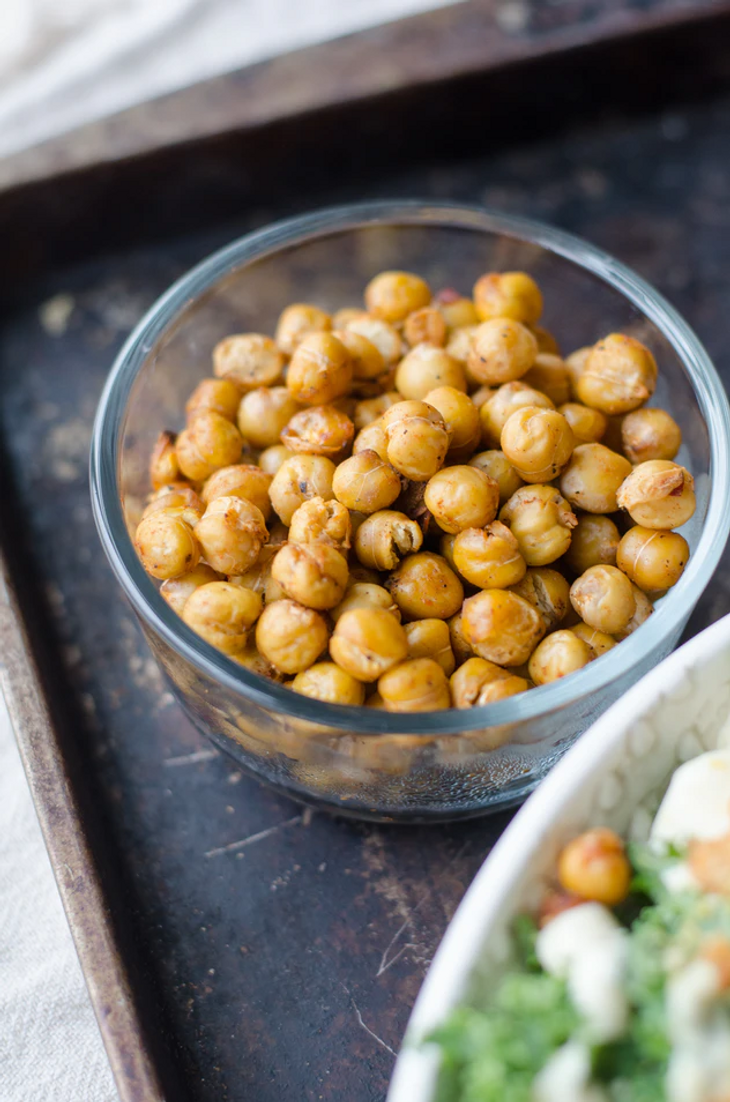 If you like to bulk make your snacks in advance and love savoury food, this harissa roasted chickpea recipe will be perfect. Chickpeas are naturally high in protein and although some people find them a bit bland, the harissa completely changes the flavour. The lemon really lifts this dish, and popping them in the oven to crisp up does magical things!
Ingredients
2 tins of chickpeas, drained and dried with kitchen towel
2 tablespoons of harissa paste (more to taste if you'd like)
1 tablespoon warm water
1 tablespoon lemon juice
1 teaspoon lemon zest
Method
Preheat your oven to 220 degrees Celsius.
In a small bowl, mix together the harissa paste with the warm water until they are combined. Add the lemon juice and lemon zest, and set aside.
Take your two tins of drained chickpeas and place them in a baking tray. Drizzle over the harissa, water and lemon mixture and give them a really good mix to make sure they are all covered.
Drizzle a small amount of olive oil over the chickpeas, give it one more mix and place in the oven for 30 minutes or until nice and crispy.
Remove them from the oven and leave to cool, or enjoy warm.
Once they are completely cool, you can easily measure out the chickpeas into 100g portions so you know that you will be consuming 19g of protein with each serving! Waiting until they are cool will make sure they don't lose their crispiness. Keep them in sealed containers and eat within 3 days for the best results.
Final Thoughts
So, there you have it! Does anyone else feel hungry now? These snacks are quick, easy and delicious, so you can easily consume the protein you need after a workout. You definitely won't have to compromise on flavour with these plant-based protein snacks, so give them a try and enjoy!
Author Bio
Daisy Moss is a freelance writer specialising in nutrition and bodybuilding. When she isn't writing or lifting weights, she loves to experiment with different supplements to see how she can best support her vegan diet. She has recently been looking into vitamin D3 supplements and food-based alternatives to boost her intake.
As an affiliate, the site earns from qualifying purchases.